ยางบวมน้ำ (Water Swlling) และยางบวมน้ำเส้น (คอนไลท์ ซี อาร์ เอ็กซ์ 200 วอเตอร์ชเว็ล ) เพื่อป้องกันน้ำรั่วซึม
ROCKMAX SWELLING 101
HYDROPHILIC SWELLING WATERSTOP

INTRODUCTION
Rockmax Swelling 101 is a hydrophilic swelling waterstop. The based material is bentonite clay with polymer rubber. The product swell when contact with water create more than 300% expansion. The release bentonite fill void between the two portions of concrete joint.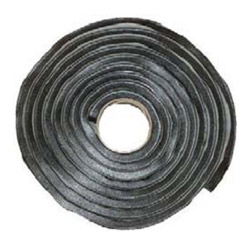 TECHNICAL PROPERTIES
Specific gravity: Approximate 1.5-1.6 Expansion: >300% Hydrostatic pressure resistance: >70m

PREPARATION
Concrete substrate must be clean, free from oil, grease, mould oil, dust and other loose particles. Ensure there is no crack on concrete surface. Damaged concrete must be repair prior to install Rockmax Swelling 101.

APPLICATION
Apply Rockmax Swelling AS (adhesive) along the concrete construction joint. Wait approximate 10-15 minutes see the adhesive look tacky. Release paper of Rockmax Swelling 101 and press firmly on the concrete surface. Rockmax Swelling 101 can use together with nail. Make sure profile is attached to the concrete surface. Use butt joint for joining waterstop. Make sure the joint is firm and attached the concrete surface.

In case of water and rain environment, Apply Rockmax Swelling Delay after install Rockmax Swelling 101 immediately. Rockmax swelling Delay will protect the expansion rate from water and rain.
AREA OF USES
Construction joints.
Water tank, waste water tank.
Tunnels.
Basements.
Elevator pits.
Retaining walls.
Pipe penetration.
King post.
Sheet pile joint.
Precast concrete structure.
Block out.
Pile cap.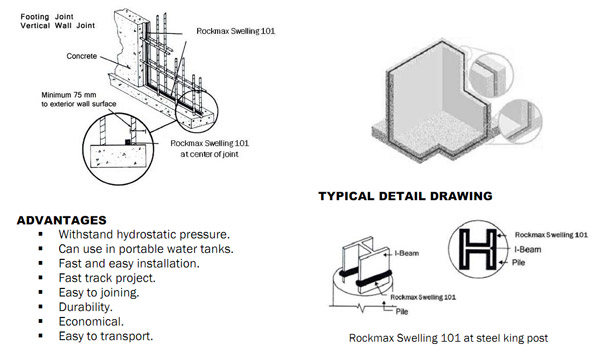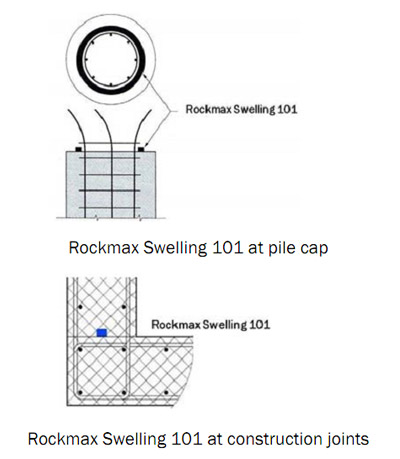 CLEANING
Clean all tools and equipments immediately with water.

LIMITATIONS
Rockmax Swelling 101 can not use for expansion joints.
Need at least 80mm concrete cover.
Not applicable in high degree of salt water.

PACKAGING
25mm x 20mm x 5meter (30 or 35 M/box)
20mm x 15mm x 6meter (36 or 42 M/box)
20mm x 10mm x 9meter (54 or 63 M/box)

STORAGE
Storage in shade and dry condition. Avoid from frost, water, moisture and high temperature.

SHELF LIFE
12 months if kept follow instructions.

PRECAUTIONS
Rockmax Swelling 101 is not hazardous during normal condition use. It is recommended to take the safety standard and precaution for application and storage.
GENERAL INSTALLATION
INTRODUCTION
Rockmax Swelling 101 is a hydrophilic swelling waterstop. The based material is bentonite clay with polymer rubber. The product swells when contact with water create more than 300% expansion. The release benonite fill void between the two portion of concrete joint.

TOOLS & EQUIPMENTS (GENERAL)
1) Hammer
2) Nail
3) Wire Brush
4) Clean small bucket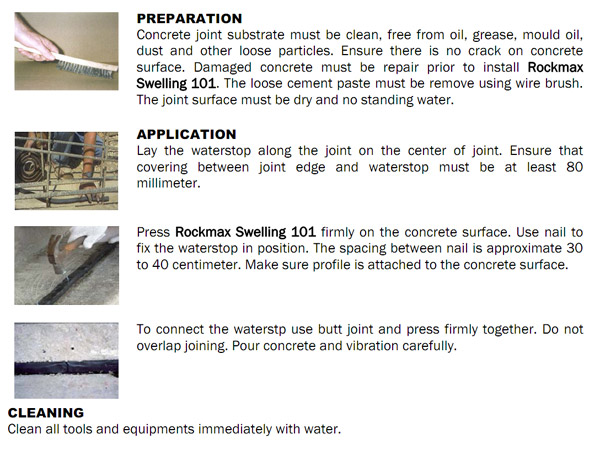 APPLICATION & INSTALLATION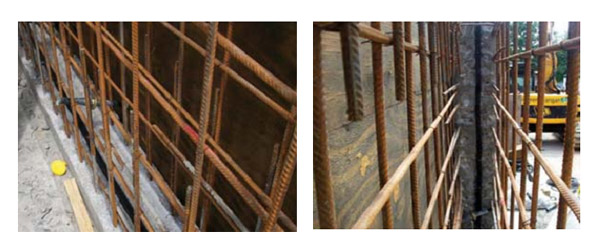 PROTECTION
In case of rain during the installation. Stop install waterstop immediately and cover the waterstop by plastic sheet.

STORAGE
Storage Rockmax Swelling 101 in shade and dry condition. Avoid from water, moisture, high temperature and direct sun light.
1 INTRODUCTION

The main objective of this test is to determine the hydrostatic pressure capacity of Rockmax Swelling 101 Bentonite Hydrophilic Swelling Waterstop (25x20 mm) in
preventing water leakages along the construction joints of cast-in-place concrete. The test was designed to simulate jobsite conditions wherein the waterstop sample was installed along the construction joints of a specially made concrete test chamber and subjected to controlled hydrostatic pressures in the laboratory.

2 TEST SET-UP PREPARATION

A cylindrical concrete test chamber 0.60 m in diameter and 1.10 m high was prepared using conventional construction techniques. The concrete test chamber had a wall thickness of 200 mm (8) and reinforced by two rows of 12 mm steel bars with 9 mm lateral ties. In preparing the concrete test chamber, the following design mix was implemented:

Mix proportion of concrete per cubic meter:
Cement Type 1 (Elephant Brand) 350 kg
Fine aggregate, sand 720 kg
Coarse aggregate, 3/8 1,100 kg
Water, W/C (0.46) 160 kg

The above concrete design mix had an average compressive strength of 292 kgf/cm2

(4,153 psi) at curing age of 28 days based from previous tests conducted at the AIT Structural Engineering Laboratory.

The construction was carried out in three stages, i.e., base, lower wall and upper wall. For each construction joint, a sample of Rockmax Swelling 101 (25x20 mm)
waterstop was installed. To avoid displacement during concrete pouring, the waterstop
material was fixed along the construction joints using nails and primer adhesives. The installation was carried out following the instructions set by the manufacturer.


Before the upper wall was cast, a 0.35m  steel cylinder was welded on the vertical reinforcements such that about 0.30 m of its length will be left embedded during the final concrete pouring. To provide an airtight cover, a 20-mm thick steel plate was welded at the top of the steel cylinder.

The sketch of the complete hydrostatic pressure test set-up is shown on Figure 1. After completion of the test set-up preparation, the concrete test chamber was filled with water and allowed to cure for 28 days prior to the hydrostatic pressure tests.